Strange Harvest
The Old Waterworks, Westcliff-On-Sea

Friday 4th to Sunday 6th November, 2022




Photo: Anna Lukala


Strange Harvest explores hand-in-hand ties between the beginning of woven fibres and the descent of humankind into sedentary living and agriculture, leading to the present day and beyond.

Philippa Stewart's installation presents a new body of work, with components depicting relics of the past, the emergence of a garment to be activated in the future, sedentary textiles and mechanical spindles whorls.

Works sit in a state of in-betweeness, reawakening a primordial connection amongst an underlying and prevalent sense of anxiety for the future. Spindles turn like ticking clocks, leading a count down to the inevitable while archival drawings of hand tools offer ambiguous instruction to survival.

The skin or pelt, a symbol of death and echo of life shrouds and protects its wearer as it transitions from the simple skin to skin cloak, to the complex woven sleeved tunic mirroring the double edged sword of 'advancement'. Materials feature a combination of natural dyed, found, foraged, reclaimed with repurposed woven fabrics.

Philippa's practice explores a determination to reconnect with the natural world through ancient technologies and material culture first established in prehistoric hunter-gatherer civilizations. Family and heritage form an active role in her approach, exploring the importance of sharing practical skills and exchanging experiences between father, mother, daughter and brother.

Her fascination with survival and adaptation extends to fibre and the development of the first garments from skin to cloth, leading to the turning point between nomadic and sedentary living. The disintegration of historical fibre leaves small traces of its existence in universal hand tools such as needles and spindle whorls, creating a realm of speculation in which Philippa's works embellish archeological truths, repurposes modern materials, forges and misplaces replicas and reimagines an alternative future.

Philippa has been working on for the last year as part of a mentoring scheme with The Old Waterworks.






'Cloaked, Clothed, Mantle, Wrap' 2022. Installation.
Zero waste pattern cut tunic with hand drawn digital printed linen, blanket pelts, hawthorn needles, tufted cloak with reclaimed yarns and video projection.
Photo: Anna Lukala



Photo: Anna Lukala


Photo: Anna Lukala


'Replicas I, II, III' 2022. Series of Drawings.
Graphite and colour pencil on cotton paper.



Photo: Anna Lukala



Photo: Anna Lukala



Photo: Anna Lukala




Photo: Anna Lukala








Photo: Anna Lukala








'Cultivated if Not Domesticated' 2022. Textile Hanging.
Natural dyed and reclaimed fabrics, hand drawn digitally printed linen twill, jute crochet receptical, hawthorn pins, forraged materials: acorns, nettle fibre, dandelion and dried flax.
Photo: Anna Lukala






'Half Hitched Causality' 2022. Installation. Hand spun alpaca yarn, recycled wool, dried flax, clay spindles, apple and hazel wood, antler tines and jute crochet recepticals.
Photo: Anna Lukala


Photo: Anna Lukala

Photo: Anna Lukala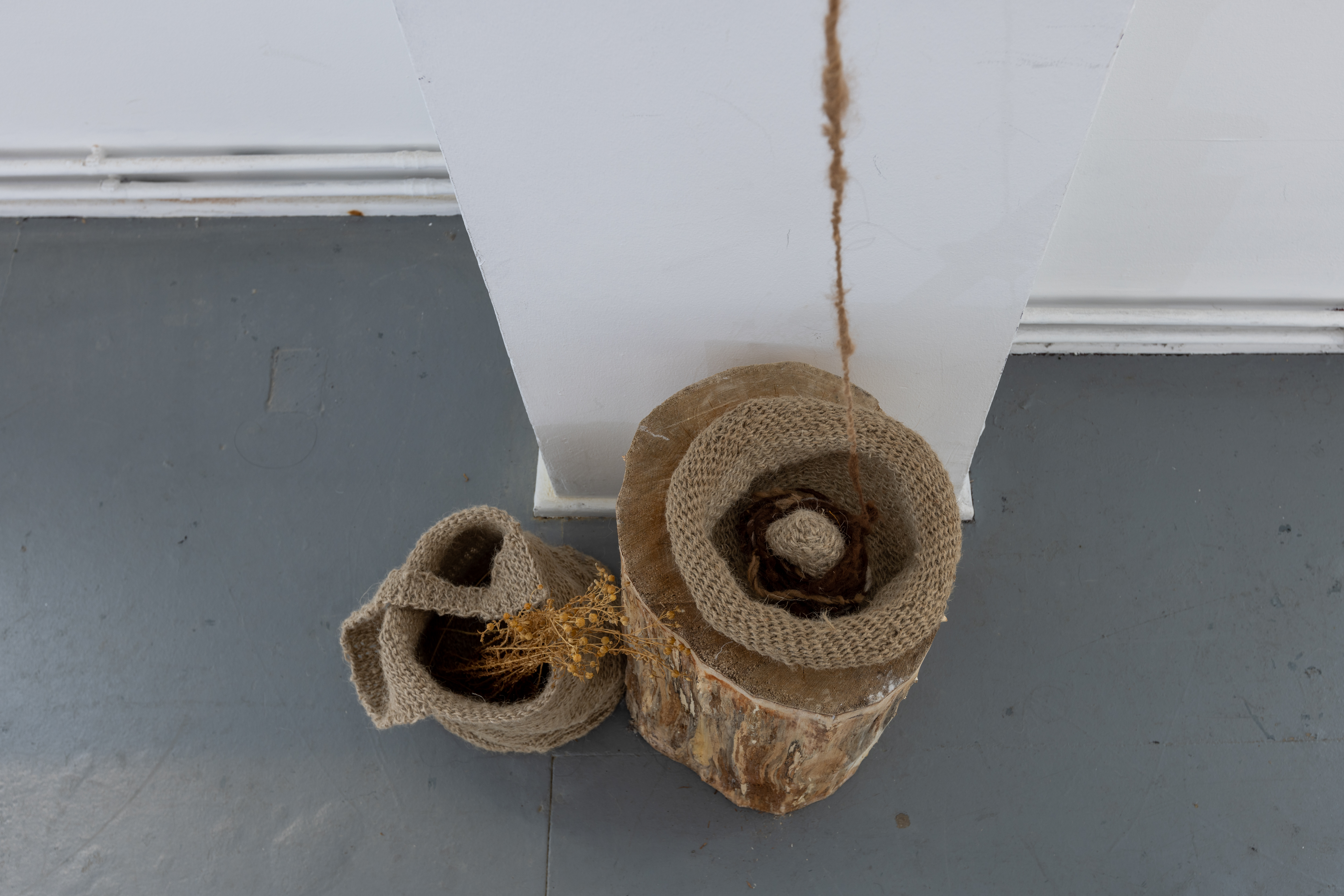 Photo: Anna Lukala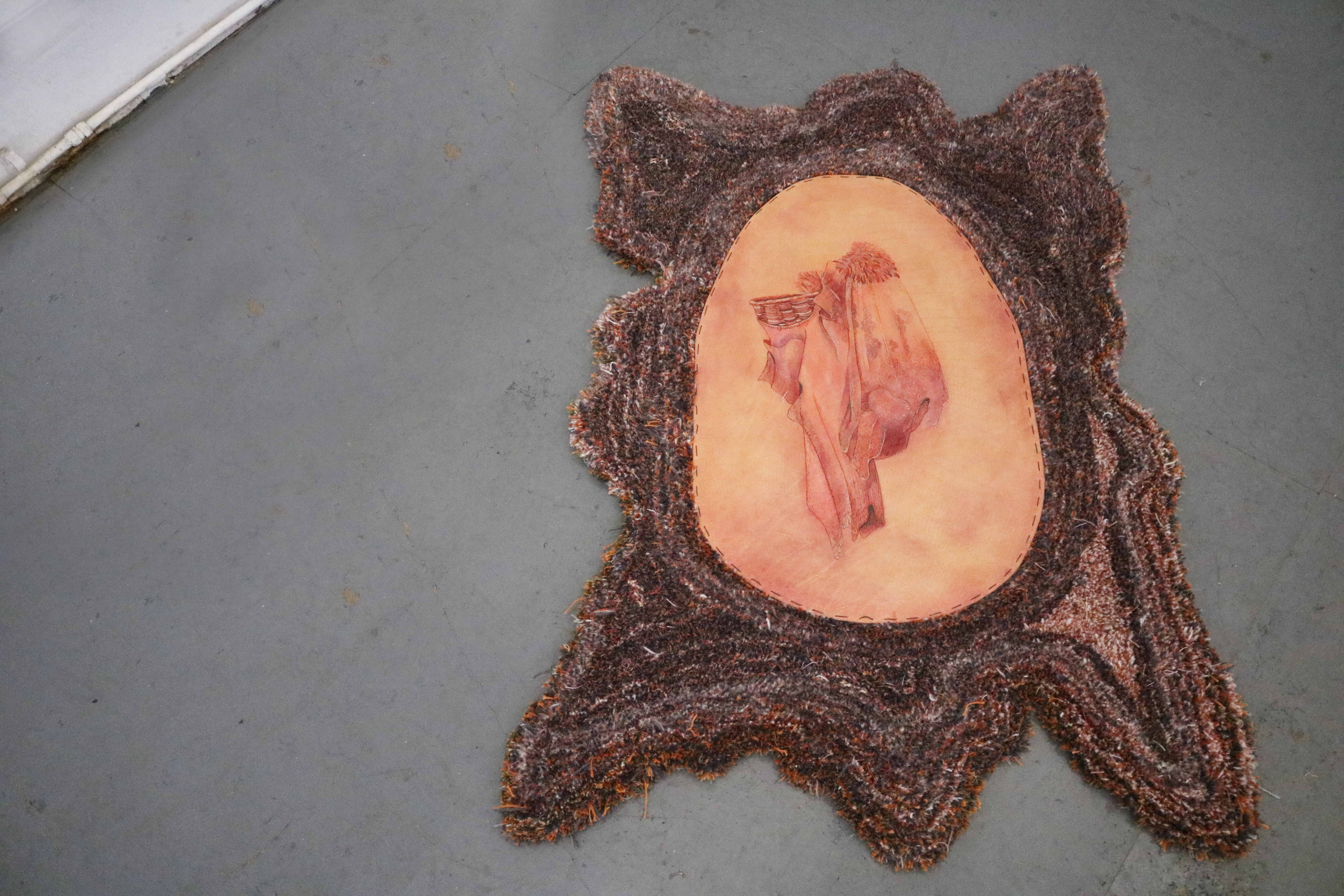 'First Furs About Themselves' 2022. Textile.
Tufted reclaimed yarns, engraved scrap leather, wax polish and leather paint.